Location: [USS Holder Homepage] USS Holder - USS Holder Association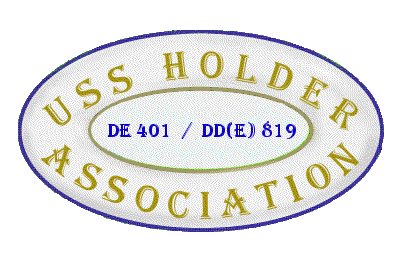 Recent Shipmates & First Mates Supreme Transfers.
Please notify Jim de Barrios (USSHOLDER_DDE819@hotmail.com and myself Bob Ellsworth (eggbert0147@gmail.com)of any supreme transfer of crew members active or inactive so we can post their passing.
Sailors please rest your oars in memory of John H. Sylvester, FA, 1948. John also served on the USS Gearing, namesake of our destroyer design. John began his new journey January 25th, 2018. May fair seas and Following wind lead his journey.
First Mate Marjorie Becker widow of Holder Plank Owner, then Lt. Charles Becker and later Admiral has made her "Supreme Transfer" embarked on her voyage November 27th, 2017. May calm seas and following winds accompany you Marge.
Harold R. Day S2/C(53-54)
Richard Evans GM3(52-53)
Herbert Lebowitz PHM3(46-48)
Herman L. Mercer QM2(61-63)
John Bacon QMC (54-57) Recently discovered transfer
Fred Cherota LTJG (70-71) Recently discovered transfer
Mortimer Johnson CDR (54-56) Recently discovered transfer


This page(http://www.ussholder.com/Holder-Assoc.html)
&nbsp &nbsp &nbsp was last Modified: 16 April 2008